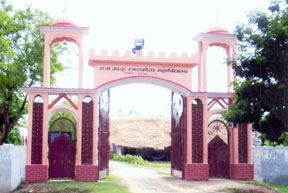 Raja Kanh PG College, situated at Jagesharganj, Distt. Saharanpur (U.P.), is one of the premier college in the field of providing education, but if we look at its background or we can say at its backbone than it seems to be much stronger than that of others. Because it has been opened after huge and enormous study of the same field by the members of Governing Body.
A large number of SEMINARS, MEETINGS & VIDEO CONFERENCES were being held for making discussions and debate on the thoughts and facts of the experience-holders of India before taking the first step towards the same.
FACULTY is the most important factor on which the average run of a college depends. Raja Kanh PG College provides peak or highly qualified and enormous experience holders as the faculty to the students. No looseness and avoidness is beared in the academic structure of the institute. On the other hand, some flexibility is provided, within the limits, to the faculty members and the students, so that they can take study and education as their worship and contain it in their own interests and not take it as a formality.
Please click here to read the History of Raja Kanh - Founder of Kahnpuria Kshatriya Rajvansh of Awadh